Below are the requirements I completed for the Camping Badge
Note: Click any image on this page to enlarge it in a new tab
The Camping Merit Badge's main requirement is to camp a total of 20 days. We chose to do an enhanced version with a diversity of locations, as shown below.
CAMP AT LEAST 2 NIGHTS IN THE DESERT
On our Death Valley vacation, we car camped near the Eureka Dunes for 1 night.

3/5/2021-3/6/2021

We camped at Anza-Borrego Desert State Park. The campsite was pretty basic, so we forgot to take campsite pictures. We did take a bunch of pictures of the Galleta Meadows sculptures in Borrego Springs though.

5/14/2021

CAMP AT LEAST 1 NIGHT IN THE RAIN
We camped at the Manzanita Campground in Sedona for one night. When we got there, it was nighttime and it had already been raining for a couple of hours. After setting up our tent in the rain, we quickly retreated inside for the rest of the night and played cards until we went to sleep.

12/9/2021

CAMP AT LEAST 1 NIGHT IN THE SNOW
We camped at the Manker Flats Campground for one night. When we got there, the snow was more than 3 feet deep we were luckily greeted by a shovel and a hole already dug in the snow. We spent the afternoon using the shovel to increase the size of the hole to fit our tent, set up camp, and build a fire. We ate dinner, played a game of chess, and went to sleep early due to the cold. The next morning, we packed up and left early.

3/3/2023

CAMP AT LEAST 3 NIGHTS IN THE FOREST
On our Echo Lake to lake Aloha Backpacking trip, we camped in the forest on our second night.

6/19/2020

We hiked in to Cedar Glen Campground and camped for one night. We got there at 2 pm and found out that there was only 1 really good campsite, which we were early enough to grab. We decided to take a nap and at about 4 pm we were joined by friends. The next morning, we hiked out.

7/2/2020

We camped in the forest on our backpacking trip to the Thousand Islands Lake. Our campsite was about four miles along the backpacking trail and overlooked a valley and a waterfall.

8/12/2021

CAMP AT LEAST 1 NIGHT WITHOUT A TENT
We camped in Joshua Tree for one night without a tent because we couldn't find an open campsite and decided to instead sleep under the stars.

4/2/2021

CAMP AT LEAST 2 NIGHTS NEAR A BEACH OR LAKE
We camped near Lake Aloha on our Echo Lake to lake Aloha Backpacking trip.

6/18/2020

We backpacked 4 miles up from Mineral King to camp at Eagle Lake. The lake was much lower than usual because of this year's drought, which made it warmer for swimming. Many of the bugs in the area were being eaten by fish that were able to jump over 2 feet out of the water. Luckily for us, there were very few biting bugs. Also, because we camped on a Tuesday, there were only a couple other people at the lake, and it was awesome to have the place to ourselves.

7/13/2021

CAMP AT LEAST 2 NIGHTS IN A LOCATION YOU HAVE TO BACKPACK AT LEAST 1 MILE TO ACCESS
On our Kennedy Meadows Bridge trip, we hiked about 7.5 miles into our camping spot and camped there.

7/9/2020

On our Deep Creek Hot Springs backpacking trip, we hiked in about 8 miles to our camping spot.

7/22/2020



COMPLETE AT LEAST 1 CAMPING TRIP OF AT LEAST 4 NIGHTS
On our 5-day Backpacking trip around the Cottonwood Lakes Loop, we camped 4 nights.

8/11/2020-8/15/2020

CAMP AT LEAST 4 NIGHTS NEAR A RIVER OR STREAM
 These two camp sites were part of my 3-day backpacking trip along Deep Creek.

6/31/2020

We also camped near a river on our Kennedy Meadows Bridge hike, on our second day.

7/10/2020

Additionally, we camped by a river on our Deep Creek Hot Springs backpacking trip.

7/23/2020

We camped for a third time on the Deep Creek Hot Springs trail on my first Extra Credit Backpacking Trip. We decided to hike to this spot in the river so that we could swim in the 106° heat.

6/17/2021

On any of these camping experiences, you must do TWO of the following, only with proper preparation and under qualified supervision. (1) Hike up a mountain, gaining at least 1,000 vertical feet. (2) Backpack, snowshoe, or cross-country ski for at least 4 miles. (3) Take a bike trip of at least 15 miles or at least four hours. (4) Take a nonmotorized trip on the water of at least four hours or 5 miles. (5) Plan and carry out an overnight snow camping experience. (6) Rappel down a rappel route of 30 feet or more.
On our 5-day Backpacking trip we did #1 and #2 on our trail loop. We backpacked 34 miles and hiked up a 1200 foot mountain. The mountain looked virtually impossible from the bottom but turned out to be pretty easy.  We completed the climb in less than 2 hours.

8/12/2020

EXTRA CREDIT CAMPING
Extra Credit Camping Trip #1

We camped at the Thousand Islands Lake on the second night of our hike there. When we arrived, we decided to hike up a hill to get beautiful views of the lake.

8/13/2021

Extra Credit Camping Trip #2

We camped at Red Rock for just one night. We got there early in the morning and set up the tent, then took a nap because it was very hot in the sun. We played cards until it cooled down so we could go on a hike. My favorite part of the trip was the super friendly White-Tailed Antelope Squirrel that kept coming back for more hand-fed food. The next day, we headed home early in the morning!

9/24/2021

Extra Credit Camping Trip #3

While we were on our Half Dome hike, we decided to camp just below the final stretch. Once it got dark, we started looking for a camping spot and found one that was just off the trail and well concealed. We slept early so we could wake up at 5:30 AM and hike the last two miles.

10/8/2021

Extra Credit Camping Trip #4

We had an opportunity to go camping with a few of our friends, so we decided to camp at Red Rock again. We got there early on the first day and our friend and his dog joined us late at night, after we made a fire. The next day we went on a hike and our other friends arrived shortly after we finished the hike. For the rest of the day we played games, enjoyed the fire, and explored the nearby rocks.

11/5/2021-11/7/2021

Extra Credit Camping Trip #5

We went camping in Joshua Tree for just one night with a couple of friends. We got to the Indian Cove Campground in the afternoon following a hike. When our friends arrived later that night, we started a fire and played cards until we went to sleep.

1/7/2022-1/8/2022

Extra Credit Camping Trip #6

We went camping for just one night at the Monte Cristo Campground. We got there a bit after noon and started with a short hike. When we got back, I built a fire and grilled some steak. We played cards for a few hours and finished the night by cooking a delicious chicken foil pack.

3/30/2022-3/31/2022

Extra Credit Camping Trip #7

We went camping for a single night in the Ancient Bristlecone Pines Forest, home of the oldest known trees on the planet. We got to our campsite, set up, and ate breakfast. Pretty quickly, we saw some scrub jays and put out some food, which also attracted a Golden Mantled Ground Squirrel, which we watched while playing chess. We later took a short walk up a nearby hill to get a bit of exercise. When it started getting dark, we built a fire and made amazing chicken foil packs. We packed up and left the next morning.

8/11/2022-8/12/2022

Extra Credit Camping Trip #8

We went camping for a single night by the San Gabriel River, and during this trip I was able to complete multiple requirements, including some for Cooking and for Pioneering.

7/12/2023-7/13/2023
ADDITIONAL REQUIREMENTS COMPLETED
In addition to the above, I also researched all the following areas and then completed a verbal presentation/interview to demonstrate my knowledge and understanding for each of them: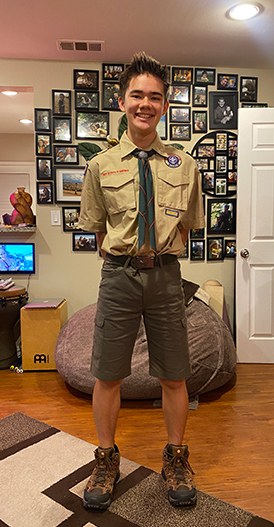 Explain to your counselor the most likely hazards you may encounter while participating in camping activities and what you should do to anticipate, help prevent, mitigate, and respond to these hazards.
Discuss with your counselor why it is important to be aware of weather conditions before and during your camping activities. Tell how you can prepare should the weather turn bad during your campouts.
Show that you know first aid for and how to prevent injuries or illnesses that could occur while camping, including hypothermia, frostbite, heat reactions, dehydration, altitude sickness, insect stings, tick bites, snakebite, blisters, and hyperventilation.
Learn the Leave No Trace principles and the Outdoor Code and explain what they mean. Write a personal and group plan for implementing these principles on your next outing.
Make a written plan for an overnight trek and show how to get to your camping spot by using a topographical map and one of the following:

A compass
A GPS receiver
A smartphone with a GPS app

Help a Scout patrol or a Webelos Scout unit in your area prepare for an actual campout, including creating the duty roster, menu planning, equipment needs, general planning, and setting up camp.
Prepare a list of clothing you would need for overnight campouts in both warm and cold weather. Explain the term "layering."
Discuss footwear for different kinds of weather and how the right footwear is important for protecting your feet.
Explain the proper care and storage of camping equipment (clothing, footwear, bedding).
List the outdoor essentials necessary for any campout, and explain why each item is needed.
Present yourself to your Scoutmaster with your pack for inspection. Be correctly clothed and equipped for an overnight campout.
Describe the features of four types of tents, when and where they could be used, and how to care for tents. Working with another Scout, pitch a tent.
Discuss the importance of camp sanitation and tell why water treatment is essential. Then demonstrate two ways to treat water
Describe the factors to be considered in deciding where to pitch your tent.
Tell the difference between internal- and external-frame packs. Discuss the advantages and disadvantages of each.
Discuss the types of sleeping bags and what kind would be suitable for different conditions. Explain the proper care of your sleeping bag and how to keep it dry. Make a comfortable ground bed.
Make a checklist of personal and patrol gear that will be needed.
Pack your own gear and your share of the patrol equipment and food for proper carrying. Show that your pack is right for quickly getting what is needed first, and that it has been assembled properly for comfort, weight, balance, size, and neatness.
Explain the safety procedures for

Using a propane or butane/propane stove
Using a liquid fuel stove
Proper storage of extra fuel

Discuss the advantages and disadvantages of different types of lightweight cooking stoves.
Prepare a camp menu. Explain how the menu would differ from a menu for a backpacking or float trip. Give recipes and make a food list for your patrol. Plan two breakfasts, three lunches, and two suppers. Discuss how to protect your food against bad weather, animals, and contamination.
While camping in the outdoors, cook at least one breakfast, one lunch, and one dinner for your patrol from the meals you have planned for requirement 8c. At least one of those meals must be a trail meal requiring the use of a lightweight stove.
Discuss how the things you did to earn this badge have taught you about personal health and safety, survival, public health, conservation, and good citizenship. In your discussion, tell how Scout spirit and the Scout Oath and Scout Law apply to camping and outdoor ethics.